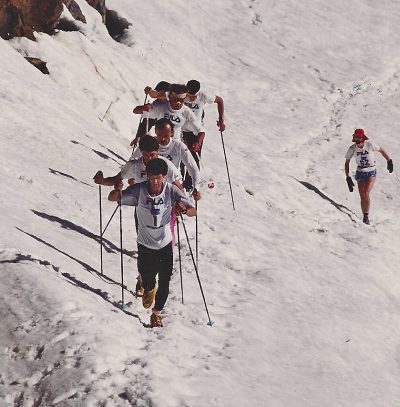 Exactly
30 years
from the first race on July 4, 1993 that summited the 4,554m of Monte Rosa in the Italian Alps, the most emblematic race of the history of skyrunning returns.
This is where the sport has its roots and it was here that after the first ascent record in 1989 by Italian Marino Giacometti in 3h57", that the first skyrunning races were launched in the '90's to become a global reality across four continents with more than 100,000 participants from 65 countries.
After four glorious editions of the race, the records, set in 1994 by Italians Fabio Meraldi and Gisella Bendotti, still stand: 4h24'27'' and 5h34'40" respectively.
Now, it's back to the future with a new format but with the same spirit as the first pioneers with a race, in teams of two, to the Margherita Hut and a shorter, open race to the 3,260m of the Indren cable car station – two competitions that look to the future but with their roots, firmly in the past.