After the successful launch of the AMA VK2 last year, the race is now part of a prestigious new circuit named simply VK2, composed of five events – all at high altitude.
The circuit kicks off with the Alagna Valsesia race, AMA VK2, on June 20, 2020.
The VK2 challenge is an uphill-only format with a vertical climb of 2,000m, a double Vertical Kilometer®. The circuit unites the most iconic races of this unique discipline, three of which summit above 3,000m altitude, including the AMA VK2 which reaches 3,260m on Monte Rosa in the Italian Alps.
Skyrunners attempting this feat must race uphill from the village of Alagna for a distance of 9.5 km with a total 2,080m vertical climb to Indren. The course winds through ancient Walser villages, steep pastures, scree and snow fields requiring the runners to use poles and micro crampons to aid their way.
The final ranking is based on the best three results obtained. Every race assigns points to the first 15 men and women with points from 100 down to 10 with an extra 25% awarded at the Grand Finale. In all the races, free entry and accommodation will be awarded to the winners of the previous race and, up for grabs, the VK2 Trophy, together with cash prizes for the winners of the circuit.
For those that are up to it, the entire circuit counts 10,333m vertical climb over 51 km distance and an average incline of 30% with stretches over 50%. If that doesn't take your breath away, nothing will.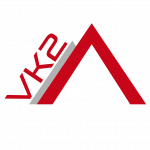 VK2 CALENDAR
AMA VK2 – Punta Indren (3.260m) Alagna (VC) – June 20
DOPPIO VERTICAL K2 – Monte Chaberton (3.130m) Cesana (TO) – June 28
K2 VALTELLINA EXTREME VETICAL RACE – Cima Pisello (2.272m) Talamona (SO) – July 5
UYN K2000 – Punta Helbronner (3.560m) Courmayeur (AO) – August 1
LA DIRETTISSIMA K2000* Monte Bondone (2.098m) Trento (TN) – September 20