Birthplace of skyrunning and Europe's highest race, the Monte Rosa SkyMarathon together with the AMA VK2 will once again represent a hub for athletes from no less than 38 countries, including past winners and aspiring new ones.
Some 700 athletes will head for the Monte Rosa events in Alagna Valsesia, Italy. The main race summits the second highest mountain in the Alps at 4,554m altitude, in a 35 km loop and a gruelling 7,000m vertical climb. For safety reasons, competitors run in pairs, roped together along the upper stretches of the course on the glacier.
All eyes will be on two-time winner, Italy's William Boffelli. "It's my third time here, each with a different partner. It's always an incredibly emotional experience and hope the saying 'third time lucky' will be true!"
This time he will team up with Nadir Maguet who's stepping up a notch after winning the first edition of the AMAVK2 in 2019. He is also VK European Champion. The Italian couple have Fabio Meraldi's record in sight and are ready to dream big. "I'm in good shape and with William, aiming high. Let's hope the conditions are good for an epic race and a shot at the record!"
More strong Italians are heading the line-up with Franco Collé, 2018 winner here with Boffelli. "For me, the Monte Rosa SkyMarathon is exceptional and that's why I decided to share it with a great friend. Our only goal is to enjoy this unique adventure!"
This time round he'll be partnering with Tadei Pivk who is raring to get back after being absent from the international running scene for the last few years. He was Skyrunner® World Series Champion and European SKY Champion in Zegama, Spain, in 2015.
Household names for skimo followers, Alexis Sévennec and Léo Viret from France will be challenging the Italians for a place on the podium. Sévennec, also a top skyrunner, commented, "I've been looking for a course to do with Léo and been wanting to do the Monte Rosa race. This is it, and we can't wait to do some real skyrunning!"
Swiss 2018 SWS Champion Pascal Egli and Slovenia's Luka Kovacic are ready to take up the high altitude challenge. "We're excited to race in a pure skyrunning race as a team and are looking forward to this technical high altitude challenge that Monte Rosa and skyrunning bring to us!"
Strong Swedish athlete André Jonsson can't wait to return to the Alps, this time, to summit, with Swiss partner Remi Français. "It feels like forever since I ran in big mountains so I'm really stoked to take on Monte Rosa," commented Jonsson. "We come from zero altitude so my ambition for great results are quite small but me and Remi had some good training together the last month so I'm looking forward to a hard but fun race."
Heading the women's race – also from Sweden – are super-strong skyrunners, twins Lina and Sanna El Kot Helander, who, like Jonsson, will take the high altitude in their stride for their first true skyrunning adventure.
Back for more are Italy's Giuditta Turini and Laura Besseghini. After leading the race in 2019, they were forced to retire just 6 km from the finish. Turini, second in 2018, said, "I can't wait to run this iconic race with Laura to relive those amazing emotions that only Monte Rosa can transmit!"
From the Czech Republic 2019 European Skyrunning Combined Champion, Marcela Vasinova will join Germany's Eva Sperger in the fight for a podium place. Vasinova commented: "I am super excited about the race but also curious and a little bit nervous. I have never been racing at such a high altitude and hope that my body will be able to adapt quickly and work well, but hey – let's put the worries behind and enjoy Europe's highest race – its a real challenge!"
The long-standing course records set in 1994 by Italians Fabio Meraldi in 4h24' and Gisella Bendotti in 5h34′ are still intact. Running in pairs makes the challenge tougher but breaking a record on such an iconic course remains a dream for many. So close, so far…
AMA VK2 – the double Vertical Kilometer® to 3,200m altitude
Introduced in 2019, the AMA VK2 is an uphill-only lung buster topping out at 3,200m after a steep climb in snow fields over part of the SkyMarathon course – 9 km with 2,086m vertical.
This year, American Hillary Gerardi who won the 2018 Monte Rosa SkyMarathon with Briton Holly Page, will take on this shorter version. "I can't wait to head back to Alagna. It's an amazing village and fantastic race and I feel lucky to get the chance to reconnect with those roots. This year, I'll experiment with a new format for me: the AMA VK2. It's great that there are multiple race formats available for runners, and I can't wait to test myself out on such an iconic and challenging double VK!"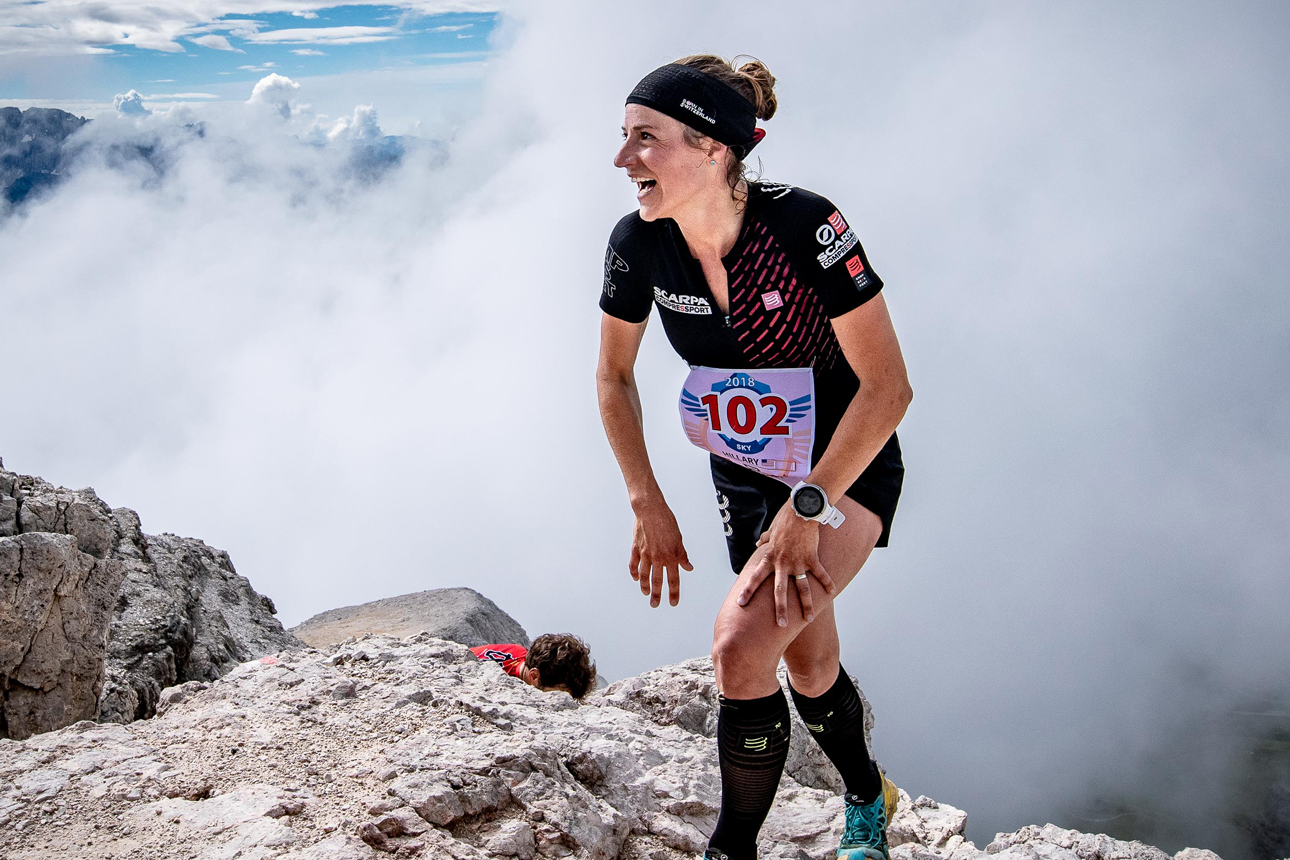 American Hillary Gerardi, after winning the 2018 SkyMarathon will try the AMA VK2. ©iancorless.com
From France, 2019 AMA VK2 winner, Iris Pessey, is looking to hold on to her record. "I'm super excited to be back at Monte Rosa this year, but after over a month of being injured, I'm not so sure where my shape stands. The double VK is the perfect race to really push your limits with no risk of injury. I loved the place and the community around the race. It's a true pleasure to be back so I will be satisfied if I am faster than the girl I was two years ago, but of course I would also like to win again!" In 2019 she also took on the Monte Rosa SkyMarathon the following day, placing fourth.
2019 men's winner Nadir Maguet is moving up a notch to take on the big race with Boffelli. In the men's field for the AMA VK2 it's an open book as to who will take the podium.
Magnificent Monte Rosa once again hosts two epic races, destined to become a skyrunning legend.