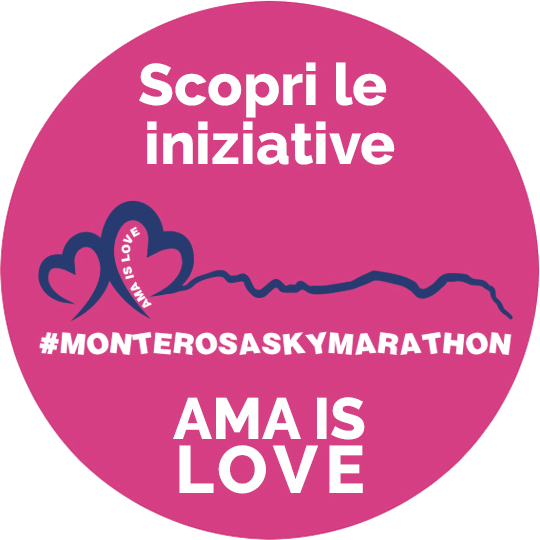 Another reason to love Alagna even more! The Monte Rosa SkyMarathon, also known as "AMA" (Alagna, Monte Rosa, Alagna), has created an initiative around the event to make athletes and spectators even more welcome with a voucher offering 10% discount on meals, accommodation, shops and services.
"Ama" is the Italian word for love, hence the "AMA IS LOVE" campaign which stretches right along the Valsesia valley to the foot of Monte Rosa. So eat, sleep, shop and enjoy with the AMA IS LOVE voucher valid from June 15 to June 30 at the following establishments.
The vouchers are available at the Tourist Office, Piazza Grober, Alagna, site of the race start and finish.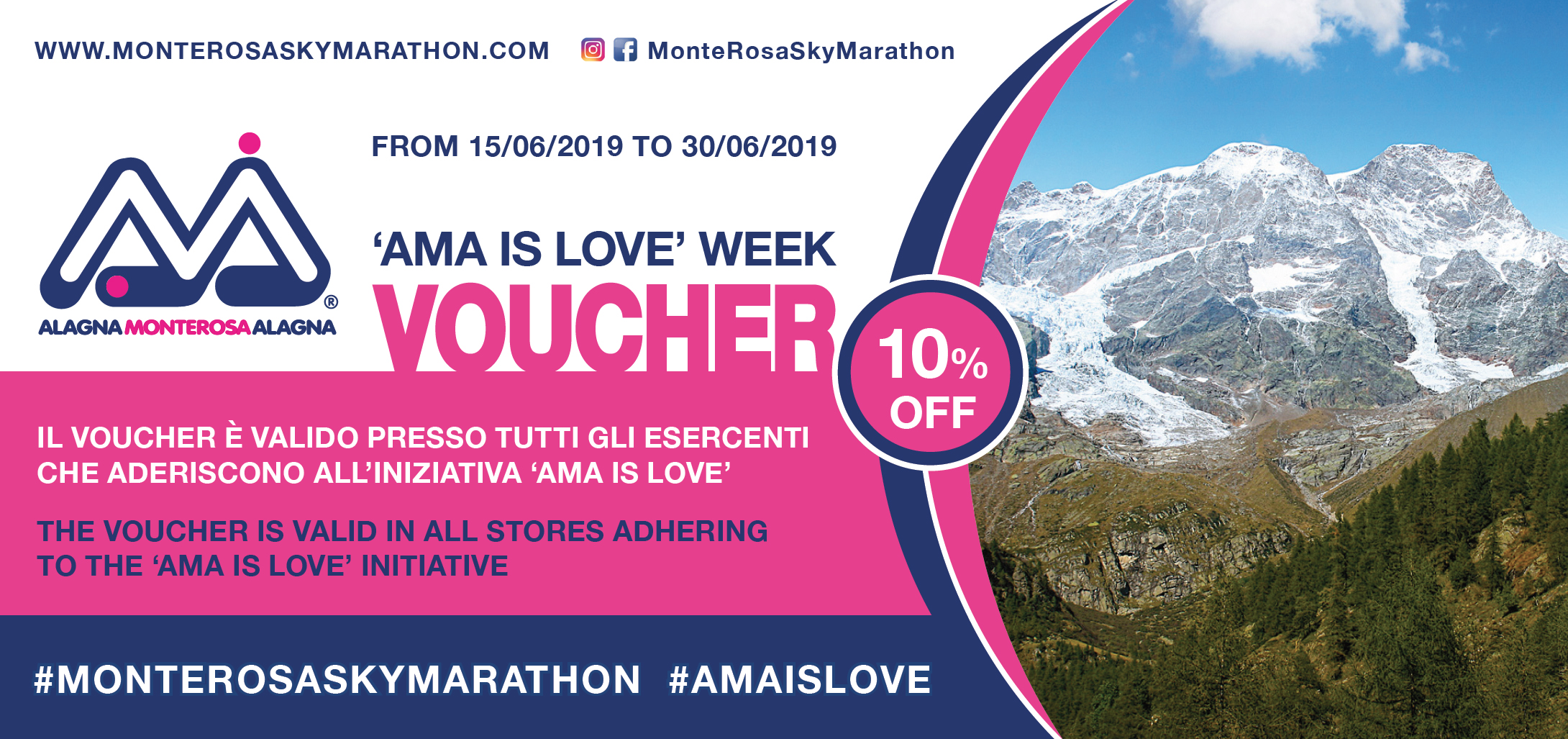 Operators taking part in the
AMA IS LOVE

initiative:
SPORTS ACTIVITIES
EddyLine Rafting, Canyoning, Hydrospeed
Località Gabbio l Campertogno
0163.775114 – 347.6439869
www.eddyline.it
BARS
Caffè del Centro Luisa
Fraz. alla Chiesa, 1/A l Alagna Valsesia
0163.91290 – 348.7003660
www.residencemary.it
Il Baretto
Fraz. Ponte l Alagna Valsesia
328.9089493
Caffè delle Guide
Piazza degli Alberghi, 6 l Alagna Valsesia
0163.91164
An Bacher Wi Bar Vineria
Via dei Walser, 13 l Alagna Valsesia
0163.91301

Chaisscherie
Fraz. Bonda, 17 l Alagna Valsesia
0163.91192
RESTAURANTS
Fum Diss
Fraz. Dosso, 14/A l Alagna Valsesia
0163.922923 – 348.1494880
Unione
Via F.lli Viotti, 3 l Alagna Valsesia
0163.922930
Indren Hus Edelweiss
Via dei Walser,18 l Alagna Valsesia
0163.91152
www.indrenhus.it
Montagna di Luce
Fraz. Pedemonte, 19 l Alagna Valsesia
0163.922820
www.montagnadiluce.it
Lo Chalet
Loc. Sesietta l Riva Valdobbia
345.9937111
Osteria Boccorío
Fraz. Boccorio, 25 l Riva Valdobbia
0163.91066
La Baita
Alpe Seiwji l Pianalunga
348.4621417 – 0163.028059
COMMERCIAL ACTIVITIES
Vodafone
Piazza degli Alberghi, 5 l Alagna Valsesia
0163.91373
Tabaccheria Sotto il Monterosa
Piazza degli Alberghi, 4 l Alagna Valsesia
0163.91367
La Civera abbigliamento e accessori
Piazza Alberghi l Alagna Valsesia
347.7621508
Basecamp Alagna
Fraz. Bonda l Alagna Valsesia
346.5062475 – 0163.020042
Farmacia all'Angolo delle Alpi
Piazza degli Alberghi, 1 l Alagna Valsesia
0163.91312
www.alpifarma.it
Tabaccheria-edicola Roberto Poletti
Piazza 4 Novembre l Riva Valdobbia
0163.360264
L'Acero Rosso ferramenta
Via degli Alpini, 1 l Riva Valdobbia
366.4940087
info@tomalatruna.eu
La Truna
Corso Umberto I, 11 l Campertogno
0163.77143